16.95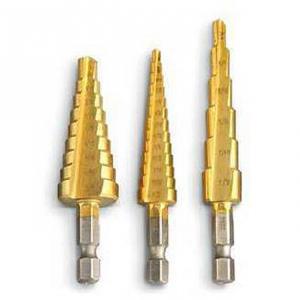 3 PC TITANIUM COATED H.S.STEP DRILL SET 3/16" TO 3/4"
SKU 101939
$16.95
16.95
3 PC TITANIUM COATED H.S.STEP DRILL SET 3/16" TO 3/4" . These Step Drill Bits are ideal for variety of materials from metal, plastic, fiberglass to wood. They also help to enlarge existing holes. The two flute design tips made the penetration faster without chipping. Item Features: Drill 28 Hole Sizes! This compact Set Replaces 28 Individual Drill Bits Automatically Deburrs Holes as you Drill Two-flute Design Gives You Faster, Smoother Cutting Titanium Nitride Coating for Cooler Running Quick-change 1/4" Hex Shank M2 HIgh Speed Steel for Long Life Comes with carrying bag Sizes of the 3 Step Drill Bits: 6 Step Bit from 3/16" to 1/2" 9 Step Bit from 1/4" to 3/4" 13 Step Bit from 1/8" to 1/2"
read more

▼
55.20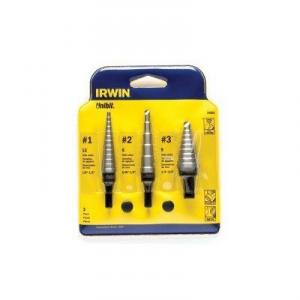 16224 Titan 2 pc #2 Square x 2" Power Bits
SKU 502
$55.20
55.20
502 IRWIN 3 PC UNIBIT STEP DRILL SET 1MT,2MT & 3MT 28 HOLE SIZES WITH JUST 3 BITS MADE IN USA . .Features Non-skid self-starting tip eliminates skidding and the need for center punching Single-flute cutting edge for greater control through steps 3 PIece Unibit Step Drill Set 3 flatted shank prevents slipping in drill chuck Includes: HSS #1, 2, and 3 Number Of Bits: 1 Dimensions Overall Product Weight: 0.32 lbs
read more

▼
**Variable Price Available. Follow link for details.