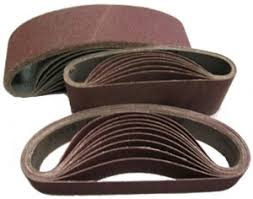 4" x 36" Abrasive Sanding Belts Heavy Duty(10 in a Pack)
$34.99
34.99
SKU 436-AB
More Details
Abrasive sanding belts in aluminum oxide can be used for a wide range of metal and wood finishing applications.
This premium aluminum oxide sanding belt has a X-weight poly/cotton backing making these abrasive belts ideal for soft metals and woods
Abrasive sanding belts are bi-directional with a taped butt joint to allow sanding belt to be run in either direction.
Aluminum oxide Sanding Belts are good for use on high tensile steels and stainless steels and other materials that are sensitive to heat.
Specifications
Width: 4" Length: 36" Quantity: 10 Pack Backing Material: Cloth Abrasive Material: Aluminum Oxide Available in: 40,60,80,100,120,180 and 240 grits