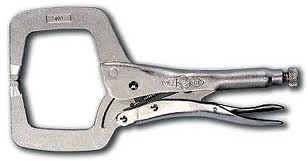 VISE-GRIP 11" C-Clamp Locking Plier (Most Popular) 11R
IRWIN VISE-GRIP
$22.99
$17.99
17.99
High Grade Heat Treated Alloy Steel Wide Opening Locking C Clamp With Regular Tips
Features
Wide-opening jaws provide greater versatility in clamping a variety of shapes
Turn screw to adjust pressure and fit work. Stays adjusted for repetitive use
Constructed of high-grade heat-treated alloy steel for maximum toughness and durability
Classic trigger release designed to provide maximum locking force
SKU 11R
More Details
11R VISE-GRIP 11" locking c-clamp.Most popular model.
Specifications
Tool Type: Locking C Clamp Jaw Style: Wide Opening Overall Length: 11" Jaw Opening: 3 3/8" Model: 11R
Reviews
Featured positive reviews:
Best ever
01/21/2022
I use these in my machine shop and sell them to my customers also I won't have anything but Vise Grip brand!!!