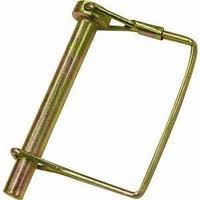 1/4" x 2 1/4" Square Handle Wire Lock PTO Pins (sold in pack of 10)
DOUBLE HH
$14.99
14.99
SKU 21971
More Details
Similar to a clevis pin, but with an attached wire loop, this round wire lock pin is perfect for quick release applications. Easy and quick to use, each pin includes an attached wire loop that secures over the post on the opposite side.
Zinc plating helps protect against corrosion
Designed for quick release applications
Easily slides over post for quick securing
Great for lawn, gardening, DIY, farming, truck, towing applications!
Convenient and Easy-to-use, secure your equipment, gear, trailer loads etc.
Yellow zinc plated for added durability
Shaft Diameter: 1/4"
Usable Length: 2-1/4"
Shank Length: 2-3/4"
Overall Length: 3"
Wire: Square